Info
District: 7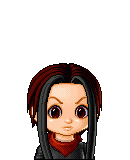 District Partner: Isa Wood
Age: 16
Weapons: Blow gun with darts, axe, spear, sword, knife
Skills: Stone is a fast runner, he's great at thidding from other tributes, he's also a good theif, a good climber adn swimmer. Stone can also use axes, spear a sword, knife and a blowgun if nessicary.
Strategy: Purposly get a low training score so the other tributes will ignore him. Hide for teh beginning of the games untill Day 3 three, then come out of hidding to kill his fellow tributes. Keep a specail eye out for Isa. Serperate the Careers and kill one of them to take their weapons and supplies on their person.
Token: His bandana in the lunaii above.
Weaknesses: Sadistic, weak act doesn't always work.
Quote: None
Personality: Sadist, mean, vicous, shows no merciy, Secretive, dark, sneaky, silent, quiet, harsh.
History: His parents died when he was little and he didn't make enough money as a lumberjack so turned to thieft. He wasn't caught for the first couple of years but eventully was caught and sentenced to 5 years in prison. Prison life toughened him up so after he was relesed he bacame the school bully and constantly picked on Isa. He also continued robbery. District 7 citizens speculated that he was reaped so the Peacekeepers could get them off of thier hands.