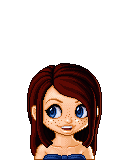 Talia Crossier
Name: Talia Crossier
Age: 18
Gender: Female
District: 2
Weapons: Sword
Strengths: Brute Strength, Speed
Weaknesses: Swimming, Overconfident
Backstory: Talia was one of seven children, born into a rich family in District 2. She was the fourth child, and her three older sisters each died in the Games. She wants to be the first person in her family to win, because her parents have been very generous to their children. She also has three younger brothers she wants to come home to. Talia excelled in training because was both strong and fast. She wants to use these attributes in the Games.
Personality: Confident, Bubbly, Cocky, Arrogant, Sexy
Fears: Dogs
Token: Braclet made by youngest brother
Games
Participated In: The 1st Pride Games
Author: Movie Reviews98
Final Placement: 50th
Total Tributes: 52
Allies: None
Killed: None
Killed by: Brianna Adams
Description: The 1st Pride Games started off with 1-on-1 rounds. Talia's round was the third, and she faced Brianna Adams, also from District 2. Talia grabbed the sword in the center of the room first, and sliced Brianna's leg. Then, Brianna kicked Talia in the face, causing Talia to drop the sword. Brianna then stabbed Talia in the chest with the sword, killing her instantly.
Community content is available under
CC-BY-SA
unless otherwise noted.