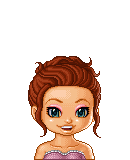 Tatia Yorke
Name: Tatia Yorke
Age: 15
Gender: Female
District: 1
Weapons: Throwing Knives
Strengths: Intimidation, Running
Weaknesses: Making Allies, Tree Climbing
Backstory: Tatia was never treated nicely as a child. Her parents always yelled at her for no reason and swore around her. She took after her parents and was a mean kid in school. She's been suspended countless times and enjoys being mean to other children. Tatia is excited to be in the Games, and will do whatever it takes to win.
Personality: Mean, Short-Tempered, Bully, Arrogant, Stuck-Up
Fears: Losing
Token: Aquamarine Ring
Community content is available under
CC-BY-SA
unless otherwise noted.