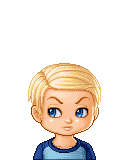 Vladimir Kristov
Name: Vladimir Kristov
Age: 17
Gender: Male
District: 8
Weapons: Sword, Bow and Arrow
Strengths: Brute Strength (Really Strong), Intimidation
Weaknesses: Intelligence, Impuslive
Backstory: Vladimir grew up in a rough household. His parents were very strict and he was severely punished if he ever did something wrong. Instead of sending him to school, his parents kept him home and trained him all day. Because of this, Vladimir became very strong, but also very dumb and impulsive.
Personality: Rough, Strict, Stupid, Mean
Fears: School
Token: Favorite rock
Community content is available under
CC-BY-SA
unless otherwise noted.