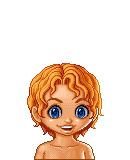 Zoro Laurey
Name: Zoro Laurey
Age: 17
Gender: Male
District: 4
Weapons: Trident
Strengths: Swimming, Brute Strength
Weaknesses: Stubborn, Impulsive
Backstory: Zoro never listens to anyone else. He always does whatever he wants whenever he wants. As a child, his parents didn't really discipline him and he became wild because of it. He never listened to teachers or anyone else of authortiy. He is very cocky and sure of himself, and he will get rid of anyone in his way.
Personality: Cocky, Condescending, Mean, Misbehaved
Fears: Getting put in a straight jacket
Token: Capsule with District 4 seawater
Community content is available under
CC-BY-SA
unless otherwise noted.